DRY CARPET CLEANING SERVICES
HOW OUR PROCESS WORKS
›HOST Dry Carpet Cleaner is a unique technology that deep cleans by dissolving, trapping and absorbing dirt. HOST Dry Carpet Cleaner is a soft, natural product, moistened with a controlled amount of water and safe cleaning ingredients. Each formula is safe, nontoxic and biodegradable.

STEP 1
When you use HOST you don't lose control of the moisture and soil. In addition to absorbing the soil, the HOST SPONGES hold that soil until it is removed by vacuuming.
Carpets do not resoil as quickly as when cleaned with wet methods because there is no sticky residue to grab and hold fresh soil. Because the HOST System does not contribute to resoiling, regular, frequent vacuuming helps to keep the carpet cleaner longer.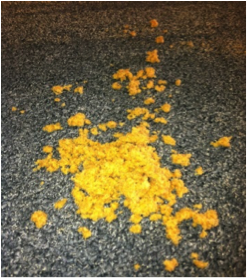 STEP 2
HOST Dry Carpet Cleaner is a unique technology that deep cleans by dissolving, trapping and absorbing dirt. HOST Dry Carpet Cleaner is a soft, natural product, moistened with a controlled amount of water and safe cleaning ingredients. Each formula is safe, nontoxic and biodegradable.
HOST  is a dry extraction, low moisture carpet cleaner formulated for special jobs. It is a natural, sponge-like material which we have mixed with water, detergents and a safe-to-use solvent.
The HOST Machine brushes the moist SPONGES up, down, over and around the carpet fibers so they contact all surfaces of the soiled fibers, breaking the oil bond and wiping the soil away. This action is similar to a moist sponge used to wipe up spills in the kitchen or soil from a wall. Carpet pile is a vertical surface much like a wall. When liquid is applied, gravity pulls any excess moisture down into the carpet toward the backing.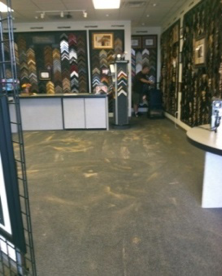 STEP 3
Dry Extract the entire area, removing loose dirt and debris that the pile-lifting brushes from the Host machine have brought to the surface. Also extracting the dry dirty cleaner, that has absorbed dirt and allergens, as well as, unwanted particles in the base of your carpet fibers.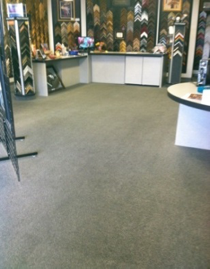 Why PureCare's carpet cleaning system is superior.
Deep cleans without water.
›We use the HOST system for carpet cleaning which uses minimal water. This means less drying and allowing you to use your carpet quicker.
With the dry method it eliminates the water saturation and damage that can be caused to the carpet and the flooring underneath. We take your stains with us when we leave.
Environmentally Friendly.
The Host system is a soft, natural, organic product. Product testing by independent laboratories shows that HOST is biodegradable, safe for people and pets and has negligible airborne dust and VOC's.
Another advantage to the waterless system is that cleaning creates less of an environmental impact with less water being used in the overall process.
Removes Allergens.
The HOST system of applying sponges to the carpet, brushing them through the carpet and then vacuuming them up removes dirt and allergens.
Research studies have shown that one cleaning with the HOST system reduces:
Dust Mites 78%
Dust Mite Allergens 75%
Cat Allergen 85%
Mold Spores 85%
Safe Cleaning for Most Surfaces. ›
Our service works great for nylon carpet tile, printed nylon broadloom, loop pile solution dyed nylon, nylon cut pile, polyester, olefin and olefin berber. PureCare Carpet is certified safe to clean wool carpet and rugs. 
It's also perfect for hard surfaces such as ceramic tile, granite, brick, quarry tile, epoxy painted concrete, slate, limestone, rubber & luxury vinyl tile, glazed tile, stone laminate and more!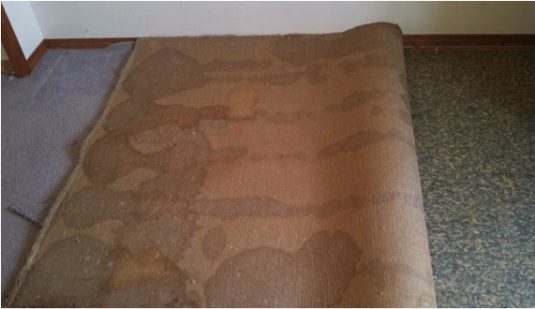 Residential Carpet Cleaning
Your flooring is an investment in your home. PureCare wants to help you prolong the life of that investment. Unfortunately, it's often tough to figure out what's going to work best. Many people choose traditional water extraction equipment. This method works by soaking carpets, turning dry dirt and dust into muddy water that is then extracted. While it does extract dirt, the excess water can break down both the yarn in carpet fabric and the glue which holds it together. Then, after most of the water has been extracted, the area has to be closed off while everything dries. If used improperly, too much sitting water from these systems leave behind can lead to mold in the flooring or carpet pads or darkening, shrinking, or loosening of carpets.
Our dry carpet cleaning system mitigates many of the issues caused by water extraction systems, providing spot removal and pile lifting to deep clean your carpet with no downtime! You get clean, dry carpets upon completion so you can get back to your life and family. No more gallons of dirty water and living in a humid home for days after a steaming. Having your carpet cleaned using our process improves your indoor air quality as well as the long life of your floors. The best part? All of our products are completely safe for skin and have no harsh chemicals, so everyone children to pets will be safe crawling on your clean carpets!
The team at PureCare is on call and ready to provide prompt, courteous, expert service. Give us a call for a free estimate, and we'll show you what your carpet looked like when it was new!
Commercial Carpet Cleaning
As a business or property owner, you can't afford to shut down just to get carpets cleaned, and you certainly don't want to come in at night or on your day off to do so either. However, you also know the importance of having an appealing building where customers feel comfortable. Because our system leaves your carpets completely dry, you don't have to worry about the woes of scheduling a carpet cleaning ever again!
PureCare's system works on all types of carpets, and because it doesn't saturate carpet fibers, your carpet won't undergo the damage caused by traditional wet systems. The dual brushes get to the base of carpet fibers, lifting dirt and debris from deep down without causing carpet tiles to bubble or peel up. This is especially important for areas with high foot traffic, as the extra dirt in those places can become muddy using steam cleaning equipment, leading to serious discoloration or stretching, or even an expensive carpet replacement later on.
Just like all the carpets we encounter, commercial properties are treated to some of the safest, biohazard free cleaning solutions available and the guarantee that we'll get the job done faster and better than than with traditional steam cleaning. Try it yourself by calling for a free estimate today!
Carpet Care Maintenance Plan
A commercial carpet installation is a significant investment, both financially and in terms of a facility's overall image. A consistent and effective carpet maintenance program both extends the life of your monetary investment and maintains the appearance of your facility over the long haul. Preserving that new, beautiful carpet look is our singular goal with every maintenance plan.
A PureCare Certified Technician will develop a customized Carpet Maintenance Plan catered to your facility's specific floor plan and level of foot traffic. Our maintenance plans are based on a 12 month model which helps us schedule times for both regular upkeep and deep cleanings to address seasonal issues. The rotation we decide upon together will be specific to the flow of your business and fashioned to be both non-intrusive and consistent.
MAINTENANCE PLAN AND SCHEDULES – OUR CUSTOMIZED COMPREHENSIVE CARPET CARE PROGRAM CONSISTS OF THREE ELEMENTS:
Routine Extraction – Frequency of routine extractions is determined by type of facility, level of foot traffic, and season; recommended at least monthly
Interim Maintenance with Routine Spot Removal – Use of professional-grade spot removal techniques on tough spots and stains and general pile lifting techniques on all carpeted surfaces. We determine the necessary level of maintenance by the level of traffic in specific areas
Deep Cleaning – Frequency of deep cleaning is determined by facility, level of foot traffic, and season; removes older residues and trapped soils
Need carpet cleaning?

Call Now: (402) 580-4850